Private Instruction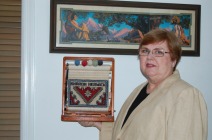 ·

Oriental Rugs
·

Silver


·

Residential Contents
·

Appraisal Office Management
·

Internet Research
---
Individualized Training Classes are an outgrowth of Sharon Kerwick's extensive knowledge in the field of appraising. She draws upon her in-depth knowledge in the personal property appraisal business to create a tailored class specifically for you.
She will teach you on an individual basis, focusing on the areas agreed upon, to increase your skills in the chosen specialties.
Her students gain practical knowledge in areas of her extensive expertise.
The course provides intensive personalized training. There will be hands-on study, as well as Multimedia and Internet training during the 1 to 7 day course.
There will also be fieldwork if time allows.
Transportation to and from the Fort Lauderdale International Airport
will be provided
in addition to local transportation.
Instruction Rates
| | | |
| --- | --- | --- |
| RATE | DAY STUDENT | W/ROOM AND BOARD |
| 1 Day at $500.00 per day | $500.00 | $600.00 |
| 2 Days at $400.00 per day | $800.00 | $1,000.00 |
| 3 Days at $300.00 per day | $900.00 | $1,200.00 |
| 4 Days at $300.00 per day | $1,200.00 | $1,600.00 |
| 5 Days at $300.00 per day | $1,500.00 | $2,000.00 |
| 6 Days at $300.00 per day | $1,800.00 | $2,300.00 |
| 7 Days at $300.00 per day | $2,100.00 | $2,800.00 |